05-september-2014
Phase plugs may fit your drivers, but are made specifically for:
Fostex FE166/167 or Radio Shack 40-1354. Serves as a generic plug for 1" drivers with whizzer cones.
Fostex FE206/207/FE206esR or Beyma 8AG/N as used in the Viech Horn. Also fit the Pioneer B20 8" with whixzzer
Visaton B200.
Limited quantity for Wild Burrow Bestsy (unfinished only)
We are always trying these plugs in other drivers to see if they fit, and a stock plug may well fit into your driver despite not being in the above list.
The phase plugs work primarily 2 fronts. 1st they fill the hole left when the dust cap removed. The air trapped in the cylinder inside the voice coil and above the pole piece causes what is called an "oil-can resonance". This invariably causes some midrange distress. Removal of the dustcap and filling the hole pretty much eliminates this source of coloration. The 2nd thing the phase plug does is to effectively halve the diameter of the cone. Any side-to-side standing waves, reflections, etc are pushed up about an octave. Related to this is an improvement in high frequency dispersion, widening the sweet-spot, and reducing the laser-like hot spot some full-range drivers suffer from. The smaller effective cone diameter means that the point at which beaming starts is pushed up and due to the shaped nature & the hardness of the plugs some HF energy is redirected.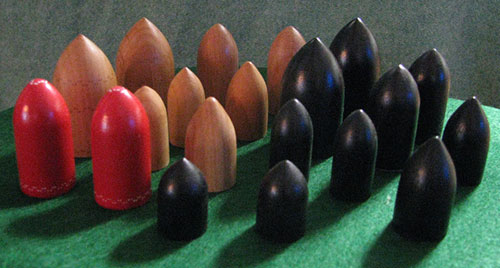 Phase plugs in natural alder or yellow cedar (the latter is our preference but raw material is not always available) in 5 sizes. Plug Blanks are also now available for 40% less for those who would like to DIY. Finished plugs come with magnetic mounting for snap into place installation with easy adjustment. Blanks can be requested with magnets pre-intsalled but normally ship with none.
---

Available Phase Plugs

---

Supported Drivers

Length

Diameter

---

Radio Shack 40-1354, Fostex FE166/FE167

1.575"
40mm

0.905"
23mm

Fostex FE206/207 FE206sER

2.2"
56mm

1.3"
33mm

Visaton B200 (originating dimensions are metric)

2.0"
50mm

0.96"
24.4mm

Wild Burro Betsy (limited quantities, blanks only)

---

Note: we are dealing with wood here. Each is hand-made so there will be some slight unit -to-unit variation. Plugs are matched to be pairs before shipping.

---
---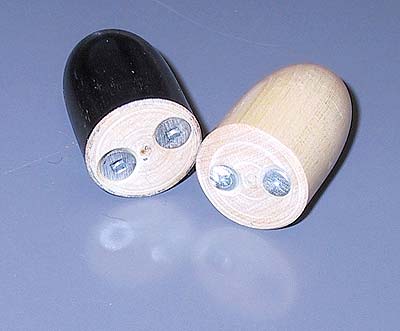 Steel screws on the bottom provide magnetic mounting. FE103e plugs shown.
---